Ichiban Sushi & Japanese Restaurant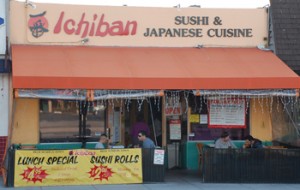 As one of the fewer than 20% Japanese owned and operated restaurants in all of San Diego, Ichiban Sushi & Japanese Cuisine is an extremely popular restaurant in the Hillcrest area serving authentic and traditional dishes since 1981.
Open for lunch and dinner amidst a relaxed and friendly atmosphere, we welcome you to experience our fresh sushi, sashimi and specialty rolls. Hot dishes such as soups, combination plates, appetizers and entrees are readily served and our 7 day a week 'Happy Hour' sushi is a crowd favorite.
So come, eat and enjoy.

Restaurant Reviews
Yay for Happy Hour! Best deal ever. Selected special rolls are 1/2 off including California Roll, Spicy California Roll, Philadelphia Roll, Crunch Roll, Soft Shell Crab Roll, Rainbow Roll, and a few more. And each order has 8 pieces. Super great deal!
Amy
When I usually go, I get the Bento Box with a seafood mix (nice and crunchy) and then take sushi from my sister or friend's plate. I think the food is great here. It is definitely inexpensive and the servers try to get your food quickly to you in this busy place. The miso soup is always great to start out with and I love it when I have just enough wasabi to make my nose flare when I have some sushi. It's been here forever…
Gavin
For anyone who's expecting a fancy sushi place for my 5 star rating, let's clear up what this place is and is not. It's not a fancy place to take a date or your girlfriend's parents coming in town. It's the best frigging deal for sushi and Japanese food for a quick lunch, or better yet, their happy hour sushi roll deals.The quality of the sushi and the size of the cut of their nigiri is good and generous, especially for the cheap price. The quality of the fish is also good and not crappy. They sell so much sushi that they don't have problems of ingredients sitting around and going bad. Their other food items are also very good and well prepared. The bento boxes are quite good deals for all the food.They recently upgraded their tables and chairs and it looks nice. It's always packed and people go through here like sushi eating factories but the service is always friendly and efficient and they never hurry you.My personal favorite thing about this place is that they have these random customer service announcements dated from years ago. For example, "Starting from 2/17/05 extra soy sauce packets will be $0.25" and things like that.Also, they have an awesome annual sushi eating contest which I'm very proud to mention that I got 3rd place this year as a 1st year contestant. There was a controvery in which my 2nd plate did not arrive in time when I finished my first plate so I was robbed!!! I will be back next year to avenge the loss!
Seung